Samuel Blair Knox was born on January 9, 1845 in the Parish of Raloo, Co. Antrim, northern Ireland. Named for his grandfather, he was the second child of David & Nancy Blair Knox. Samuel arrived with his parents in Charleston, South Carolina around 1846, and the family made their way by wagon to Abbeville, South Carolina to begin their new life in America.

When he turned 18, Samuel entered the Confederate Army as a private in Co. A, 1st SC Cavalry on April 1863. After the war, he spent two years in Florida clearing land and considered making his home there. The heat and humidity were too much for Samuel and he returned to Abbeville where he married Amanda Elizabeth Crawford on February 19, 1874.

Amanda was born August 7, 1853, in Abbeville, the oldest of eight children born to John Alexander and his second wife, Rose Etta McAllister Crawford. She was the grandchild of William A. and Esther McWilliams Crawford, both immigrants from Co. Antrim, northern Ireland.

Samuel died on November 4, 1904 in Abbeville and is buried in Little Mountain Presbyterian Church Cemetery in the little community of Antreville, just outside Abbeville. Amanda lived until December 18, 1931. She died in Birmingham, AL, at the home of her daughter, Mayme Belle Knox McAdams Lee, and is buried next to Samuel. Amanda was one of the last of South Carolina's widows to receive a Confederate Pension. She applied in 1918 at the age of 65.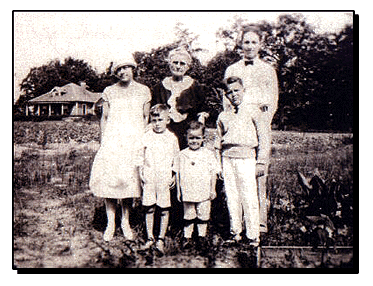 Amanda is pictured above with some of her grandchildren around 1923. Left to right Mary Elizabeth Knox, Herbert Blair Knox, Amanda Elizabeth Crawford Knox, Charles Samuel Knox, Roscoe Charles Knox, and Harold Knox McAdams. [Not included are George Alton Knox, b. 1926, and Samuel Ralph Knox, b. 1901]

Samuel Blair Knox Bible Records- These records are from the family Bible dated 1869.
By Nancy Knox Schaffer, 1998