Jennie Moore Knox was born March 15, 1854 in Abbeville, South Carolina, the seventh child of David and Nancy Blair Knox. She was only ten years old when her father died, but she had plenty of brothers and sisters to keep her company. Jennie married James Andrew Gilliam in her mother's home on January 29, 1878. Dr. J. F. Gilbert performed the ceremony. David was born January 1, 1856, one of eleven children born to James Mason and Mary Ann Robison Gilliam.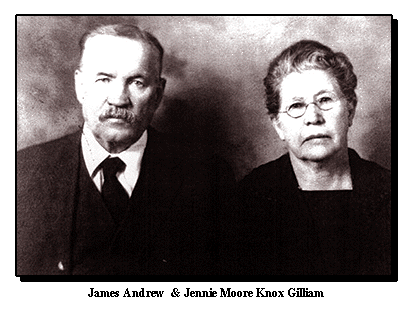 Jennie and James Andrew had eight children; David Mason, Mary Virginia, Nancy Isabelle, Albert Lamar, Clara Lee, Samuel Grady, Oscar Motte, and James Whitfield Gilliam.
Jennie died of a stroke following declining health on March 29, 1930. James Andrew died July 30, 1933. They are buried together in Abbeville's Sharon United Methodist Church Cemetery.
by Nancy Knox Schaffer, 1998